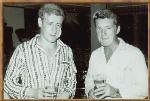 Matt Mcbirney and Pete Thornton enjoying the night life of Singapore many more years ago than they would care to remember!. The bandage on Matt is the result of a scuffle with a large bouncer - Pete says he managed to avoid him by duckin' and divin' and thus, kept his looks!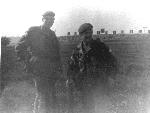 Hugh Smith and Dougie Baikie
1968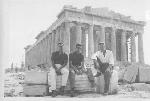 Greece 1964 - Ray Duffell, Ron Hart & Phil Daniels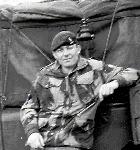 Keith Weller circa 1969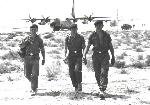 Les Lawbuary, Jimmy Campbell & Geordie Wilson - Libya 1968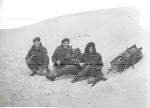 Pete Bibby, Ron Hart & Taff Williams - Libya 1964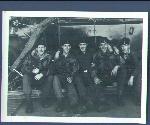 Rigging Team at Watchfield, from the left; Jess Harper, Jinx Jenkins, Ray (Paddy) Cardwell, Ron Hart and Ginge Demain.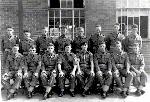 Neil (Wee Mac) MacDonald Maida on P Coy..early 60s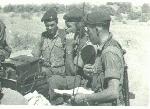 Rear Link Det 3 Para 1961 - from left, 2IC 3 Para, Rex Couch and Ron Hart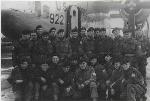 From the 'Lost & Found' Section. Now we're getting somewhere - (thanks to Dickie Hudd). RON TASKER in front of a C119. To his right kneeling second row very light face DAVE REDWIN. To Ron's left kneeling at the end KENNY COOMBER. Standing; behind Ron (right shoulder forward with DZ Flash) TAFFY MATTHIAS. To Taffy's right DICKIE HUDD directly in front of the door. Standing behind Kenny Coomber - ? HARRIS. Next to him (on his right) CLAUDE MELODY. Taken around 1956