Just after the Squadron moved from Barrosa Barracks to Elles, the Pegasus Flag, that flew daily above the Headquarters 16 Parachute Brigade building, went missing. Nobody owned up and nobody had any idea of what happened, that is, until our reunion at the Scotch Corner Hotel in May this year. The next few sequences tell the story: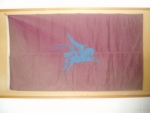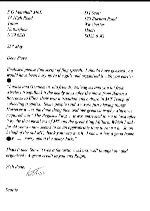 Click on Scotties' letter
if the wording on the expanded version cannot be made out
Click here to go to our Notice Board for readable version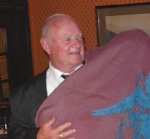 Scottie and the Flag - Scotch Corner 2004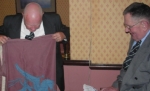 Jack Turner looks non-plussed (and imagines what he would have done to Scottie had he known at the time) as he is presented with the Flag 44 years after its disappearance.
The flag belonged (arguably still belongs) to the now disbanded 16 Parachute Brigade. It is our intention to ask the Curator of the Airborne Forces Museum to accept it as an exhibit and ask that the heros of our story be mentioned alongside