Independence from 6th Airborne Division 1946
2nd Parachute Brigade and its Signal Section formed in July 1942 as part of 1st Airborne Division. The Brigade became independent for the first time in late 1943 when it remained in Italy on the return of its parent Divjsion to UK. 2nd Parachute Brigade subsequently joined 6th Airborne in Palestine in late 1945 at the time that 1st Airborne Division was disbanding.
Towards the end of 1946, it was hoped that 6th Airborne Division would be released from Palestine and be redeployed to BAOR. In December 1946, however, it was decided that only one brigade from the Division should leave Palestine initially but that the remainder of the Division would leave later at a time then unspecified.
2nd Parachute Brigade was chosen to return to England, reorganise itself and prepare to move to Germany. The rest of December was spent in preparing for the move and making the Signal Troop (K) fully up to strength from men of the Divisional Signal Regiment.
Return to England 1947
2nd Parachute Brigade and its Signal Troop embarked at Haifa in January 1947. A month later the Brigade was complete in Perham Down near Tidworth. Captain E H Carter took over command of the Troop and everyone settled into a wooden hutted camp on the road between Tidworth and Ludgershall.
In May, Major G Proudman, who had been OC No 2 Squadron of the Airborne Divisional Signal Regiment, returned from Palestine and took over command of the Troop. Captain Carter was then appointed Second in Command. Major Proudman had returned to expand the Troop into a squadron prior to its move to BAOR. For the remaining seven months of 1947, the unit reorganised itself into a squadron. Establishments and equipment tables were drawn up and the unit changed its title to 2nd Independent Parachute Brigade Signal Squadron. Training culminated in November in Exercise LONG STOP when the whole Brigade took to the air in a single lift.
Germany 1948
In February it became known that 6th Airborne Division would not be going to BAOR after Palestine and that the Division would instead be disbanded and reduced to a single brigade sized formation. 2nd Independent Parachute Brigade was selected to continue on the demise of 6th Airborne Division.
The Brigade and the Signal Squadron moved as planned from Perham Down to Schleswig in North Germany in February 1948. The Squadron took up residence in a smart former wartime German naval barracks overlooking the Sound and soon earned the nickname of the 'Schleswig Signal Squadron'.
During April, 6th Airborne Division were on their way back from Palestine to Perham Down and the Squadron received more reinforcements from the Divisional Signal Regiment. 6th Airborne Divisional Signal Regiment took the greatest care to ensure that the surviving Parachute Brigade Signal Squadron was correctly established in men, stores and funds. The Regimental Sergeant Major, WOI Leonard, even voluntarily dropped a rank to go as Squadron Sergeant Major. After the final parade of 6th Airborne Divisional Signal Regiment, the Squadron was made fully up to strength with all Regulars and all parachutists. This state of affairs was unique at the time when the Corps as a whole was considerably under strength and made up of many national servicemen.
In May, HRH The Princess Royal visited signal units in Germany. The Squadron formed a Guard of Honour for her visit to HQ Hamburg District. Also in May, Lieutenant Colonel Pringle, who was the Commanding Officer of 6th Airborne Divisional Signal Regiment, visited the Squadron.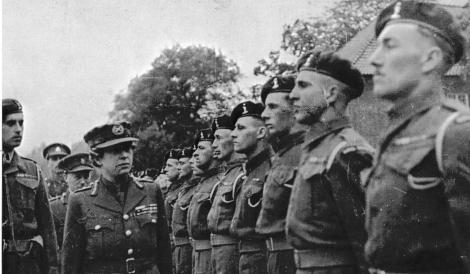 Plate 22. HRH The Princess Royal Inspecting 2nd Independent Parachute Signal Squadron May 1948.
Click to enlarge the picture.
On 25 June 1948, 6th Airborne Divisional Signal Regiment held a farewell parade in Perham Down to mark the reduction of the Division to a Brigade. At this stage, 2nd Independent Parachute Brigade was redesignated 16 Independent Parachute Brigade Group. The '16' being a combination of '1' and '6' Airborne Divisions under whose command 2nd Parachute Brigade had been at some stage since 1942. The Squadron took the title, '16th Independent Parachute Brigade Group Signal Squadron'.