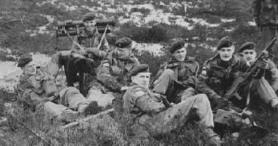 We believe that the chap on the extreme left of the top photo is Clem Palmer?. More; Geordie Earl reckons that 5th & 6th from the left are Geordie Hutchings (we agree) and Pete Thornton? TO SEE HOW BADLY WRONG YOU CAN BE, SEE ALDERSHOT YEARS PAGE 9! (WE WERE WELL OUT!) In addition, Geordie feels that bottom photo second from left is Ron (Geordie) Hart - any advances on those?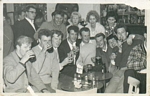 Old group, is that Phil Stallard standing on the left centre but who are the rest and where and when ?
According to Ricky Doherty it is, indeed, Phil Stallard, although we are not convinced! In addition, from left to right; Pete Broad, Finnley McLuskey, Brummie Robson, Scottie, Jock Earth & Roger Biddilcome. Thanks Ricky - any advances on this?
Stop Press from Ron Hart is that the guy between Scottie and Jock Earth is John (Brummie) Marriot and that, like us, he ain't convinced that Phil is in the picture! Thanks Ron.
Stop, Stop Press, Brian Earl is saying that its not Phil Stallard but Chalky Lloyd M.T.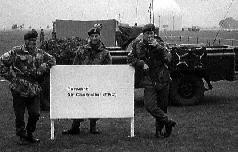 FAC - Mid 60s. Neil MacDonald & Jimmy Bain. Thanks for your input to the Guestbook Mac.
Chalky Lloyd on Parade - Cyprus 1961 - 2 Para Rear Link publicity shot. Looks like he's getting a very serious talking too by some poor chap who never made it through 'P' Coy!
The fellow behind Chalky is Frank McGurk and just for the the record, the chap doing the inspection was General Whistler. Somewhere out of shot is the remainder of the detachment, Brian Earl, Neil Gerner, Frank Kelly and "Nat" Lofthouse.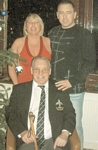 Chalky Lloyd Now with his family